---
Kuala Lumpur is the capital of Malaysia and is the country's cultural and economic center. Most arrive in KL from KLIA airport, but the low cost carrier terminal – LCCT – is also a popular entry point for those flying with AirAsia, Firefly, Jet Star or Tiger Air. For quick transits, there are plenty of hotels near LCCT and KLIA, though staying in the city center is a far better option for travelers staying a couple of days.
Looking for Malaysia hotels discount up to 75%?
Book  Malaysia hotels booking  on  Agoda now!
---
Latest News on Kuala Lumpur Tourism
Posted: February 18, 2014, 10:29 pm
Posted: February 18, 2014, 4:59 am
---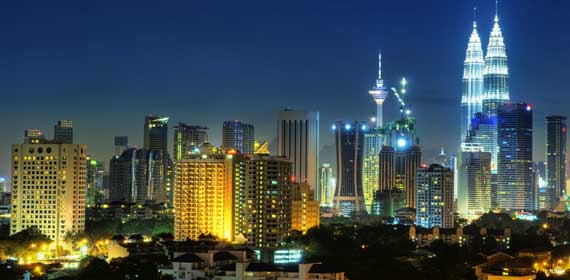 ---
Kuala Lumpur is a very modern city with an efficient and inexpensive network of public transport comprising trains and light rail. The biggest attractions in the city – literally – are the Petronas Towers, the tallest twin towers in the world at 88 floors. The connecting bridge between the towers provides unsurpassed views of the city and tours to the skybridge are a popular activity for tourists. Kuala Lumpur Tower – Menara Kuala Lumpur – also has an observation deck from which a 360-degree view of the city can be had without obstruction.
Shopping is a popular activity in KL, as it is in most Southeast Asian capitals. The 'Golden Triangle' section of the city comprises several large malls; the Mid Valley Mega Mall and up-market Suria KLCC are two of the largest in Southeast Asia and sell everything from electronics to designer handbags. The main shopping streets are Jalan Bukit Bintang, Jalan Sultan Ismail, and Jalan Imbi.
Another great place for shopping and dining is Chinatown. Nightly markets and food stalls set up in Jalan Petaling opposite Puduraya bus terminal. Chinatown provides a great opportunity to indulge in Chinese and Indian food as the restaurants here are inexpensive, authentic and in plentiful supply
---
Kuala Lumpur on YouTube
---
Special Offers – Kuala Lumpur Hotels
Hotel Maya (Book now!)
Location: KLCC
Valid until: May 31, 2012
22% Discount. Rates from  USD 86 per night
Room type: Studio
---
Melia Kuala Lumpur (Book now!)
Location: Bukit Bintang
Valid until: December 31, 2012
15% Discount. Rates from USD 69 per night
Room type: Melia Guestroom
---
Sunway Putra Hotel Kuala Lumpur (Book now!)
Location: Chowkit / Putra WTC
Valid until: September 30, 2012 
30% Discount. Rates from USD 63 per night
Room type: Superior Room
---
Renaissance Kuala Lumpur Hotel (Book now!)
Location: KLCC
Valid until: December 31, 2012
30% Discount. Rates from USD 91 per night
Room type: Superior Room
---
Sunway Resort Hotel & Spa (Book now!)
Location: Bandar Sunway
Valid until: May 31, 2012
20% Discount. Rates from USD 138 per night
Room type: Premier at Sunway Resort – Room Only
---
Shangri-la Hotel (Book now!)
Location: KLCC
Valid until: December 31, 2013
10% Discount. Rates from USD 138 per night
Room type: Deluxe King
---
The Royale Bintang Hotel (Book now!)
Location: Bukit Bintang
Valid until: January 02, 2013
10% Discount. Rates from USD 75 per night
Room type: Superior With Breakfast
---
Pan Pacific Kuala Lumpur International Airport Hotel (Book now!) Location: Sepang (KLIA Airport Area)
Valid until: December 31, 2012
20% Discount. Rates from USD 135 per night
Room type: Deluxe
---
Traders Hotel by Shangri-La (Book now!)
Location: KLCC
Valid until: December 31, 2013
15% Discount. Rates from USD 125 per night
Room type: Deluxe City View
---
Golden Palm Tree Iconic Resort & Spa (Book now!)
Location: Sepang (KLIA Airport Area)
Valid until: December 20, 2012
25% Discount. Rates from USD 108 per night
Room type: Travelers Palm Villa
more…
---
Hotels in Bukit Bintang
more…
---
Hotels in KLCC
more…
---
Hotels in Chowkit / PWTC
more…
---
Hotels in Mid Valley
more…
---
Hotels in Chinatown
more…
---
Kuala Lumpur Hotels by Area:
---
Kuala Lumpur Hotels by Category:
---
Popular Kuala Lumpur Hotels:
---
Places of Interest in Kuala Lumpur: